1.1 What's Lololyrics?
Lololyrics is a site dedicated to all music, not just electronic dance music anymore, so no problem whatever other genres you might like.
Lololyrics was created by a Swede! Yes indeed, meatballs, Ikea and now - Lololyrics! I'm a man with a passion for good music, friends, computers, etc. Together with my fellow moderators and admins I run the site.
My nickname on the site is
atomicoz
R.i.P. :-( . Nowadays it's run by another crazy swede! My nickname on the site is
Neoflamer
.
Why 'Lololyrics'?
Many, many eons ago; the then dominant species on Earth were almost exterminated by an awful plague.
Left was only one man and he tried his best to reproduce using nothing but what nature could provide, thus he didn't succeed. (He needed a woman. This isn't an episode of Lost, Fringe or The X-Files)
The Incans refer to this man as "Mr. Lolo" ..
Maybe this is true, maybe it isn't. I heard the real story is hidden somewhere on the site.
1.2. Site Rules
No society can exist without rules, and Lololyrics is no exception. Down here you will find the general rules of behavior we would like you to stick to when visiting Lololyrics. Breaking them may lead to an official warning by an admin or a moderator, or even getting banned. Luckily we rarely have to ban someone, and people just stick to the rules mostly.
Illegal content
Examples:
* Warez (Do not make it available in any way)
* Pornography of any kind (no porn at all on Lololyrics)
* Racism
* Attacking the site or its user (Surely you can keep a conversation at a high level and discuss using arguments?)
* Using the site in a malicious or unintended way (
spamming, scamming, hacking
, etc.)
Undesired activities:
* Deliberately trying to insult or provoking people. (
Trolling
)
* Posting made up facts, give us a way of verifying. (Sure, you know the artist, but another person just claimed the opposite saying he knew another artist)
* Anonymously representing a company, organisation or site and using Lololyrics for commercial gain. (
Shilling
)
* Collecting data regarding the site or its members (
Mining
)
* You may only use one account on the site. (No duplicate accounts or
evading bans
)
Etiquette:
The official language on the site is English. Stick to it unless it's a foreign request or lyric.
Users are responsible for the content they post. In case of breaking the rules or receiving a valid complaint we will look into it in a reasonable amount of time.
You may not use an offending name or impersonate other people. (E.g. DJ's or producers)
We reserve the right to send you email messages in case of changes on the site or your account. For example sending you an email if your lyric request gets added by another user.
Repeated violations or a severe violation may lead to your access being temporarily or permanently revoked.
1.3. Privacy Policy
We use third-party advertising companies to serve ads when you visit our website.
These companies may use information (not including your name, address, email address, or telephone number) about your visits to this and other websites in order to provide advertisements about goods and services of interest to you.
If you would like more information about this practice and to know your choices about not having this information used by these companies,
click here
.
We use cookies
We use "session cookies" which is stored in your browser until you close your web browser or clean your cookies. When people login we offer the ability to store a cookie in their browser so that they can be automatically logged in next time they visit Lololyrics, even if they have closed their browser.
Both of these types of cookies can be turned off by going into the settings of your web browser, for more information regarding this please refer to the help documentation of your browser. You will not be able to stay logged in as a member if you disallow all cookies.
Third party links
Occasionally links to third party websites are included on our website. These third party sites have separate and independent privacy policies. We therefore have no responsibility or liability for the content and activities of these linked sites. Nonetheless, we seek to protect the integrity of our site and
welcome any feedback about these sites
.
What information do we collect?
We collect information from you when you register on our site or fill out a form, such as when contacting us.
Any of the information we collect from you may be used in the following ways:
1. To personalize your experience. (Your information helps us to better respond to your individual needs)
2. To improve our website (We continually strive to improve our website based on the information and feedback we receive from you)
3. To improve customer service (Your information helps us to more effectively respond to your customer service requests and support needs)
4. To send periodic emails - The email address you provided when registering may be used to send you site news, updates, service information, etc. (You can disable newsletters in the
account settings
)
5. To administer a contest, promotion, survey or other site feature
How do we protect your information?
We implement a variety of security measures to maintain the safety of your personal information when you access the site, e.g. your password is encrypted in our database and we are not able to retrieve it ourselves.
Privacy policy last updated 2010-09-11.
1.4. Admins and moderators (Can I be one?)
The moderators and admins are the people that are authorized to make changes to the site and its users.
Admins:
atomicoz
,
Core
,
Drastic
,
Neoflamer
,
Pain
,
Stan
Moderators:
BlueBerry
,
buurthuis
,
DaHunger
,
Deathmask
,
djhandedout
,
HardstyleLJ
,
Imil
,
Insidiouz
,
Meaty
,
Payne
,
surrender
If you think you would fit nicely as a moderator,
please do contact us to apply
.
Requirements:
* You like helping people. (In other words, you want to help people as much as possible. You do not get annoyed but instead fix and/or tell if people miss minor things)
* Good understanding of English. (Spelling errors, grammar, decent vocabulary so you won't mistake words for something else, etc.)
* Submitted a 'bunch' (10-20) of flawless lyrics so we know you got the hang of the rules. (lyric formatting, etc.)
2.1. Lyric Guidelines
A. Genres we allow
Lololyrics is a site dedicated to all music, not just electronic dance music anymore, so no problem whatever other genres you might like. Don't forget to place it in the closest genre, e.g. Happy Hardcore is fine in the UK Hardcore genre. If there's no close fit there's always the Other genre.
B. Lyric text quality
1. Try to use well known spellings of each word, even if it's slang (ex. "cause" is better than "cos" or "cuz")
2. Lyrics should have a source, or contain more than six different words not including the words in the title. E.g. songs without a source with the same two words repeated over and over will not be accepted.
3. Split up the lyric in sections for easier readability. (Logical grouping while listening to the song) Typing it in one monstrous wall of text may lead to it being disapproved.
4. Mark repetitions in a song with brackets.
i. Mark line repetitions with a [2x] at the end of the line, where 2 is the number of repetitions. If there's an unknown or big number of repeats you may use a question mark, like this: Do you like violence? [?x]
iii. Mark repetitions of whole verses by placing the [3x] after the block, like so:
The beats, the bombs
The beats, this is how we do it!
[3x]
5. Mark words you can't understand, don't just leave out those parts completely. If there are too many, you're better of posting it as a request to get other users to help you fill in the blanks.
C. Sources
1. If the lyric sounds like it's using samples from another song or a movie, try to search the web for it, and add any found source(s) in the 'source' field.
2. Keep the source name simple, specify additional details in the notes if necessary.
D. Notes
1. If you want to include a youtube video with your lyric, paste the link of the video between [embed] and [/embed].
2. Specify in the notes any additional details about the source that you would like to clarify (ex. 'From the movie K-Pax (2001) in the intro sequence').
E. Mashups, megamixes
1. Megamixes (rapid mixing of multiple tracks) and Mashups (combining different songs to form one song) are allowed. Make sure it can be verified or it will be removed. There are a lot of people creating homemade mixes or songs and sometimes they add it under a false name. (E.g. Angerfist - Terror Of My Speedcore)
Please only submit the lyric if you have a good understanding of it. Do not simply leave out parts of the text because you can't understand, it will be removed. Don't submit lyrics you can't verify because you don't know the language.
F. Remixes, edits, covers
1. Remixes/Edits/Covers of tracks are allowed only if the remix/edit/cover has additional lyrics compared to the original track.
2. Edits are sometimes shorter versions of the original track (e.g. Radio Edit, Video Edit) in this case you are encouraged to add the lyrics to the full version.
3. Covers should be released by an established artist on a recognized label. (This to prevent 100 different covers from YouTube being added)
Can I add track X?
Tracks may be added if they are released, given out for free, is up on youtube or similar.
We do not support leaked tracks.
2.2. Where's the lyric or track I just submitted?
Before your lyric is shown on the site it has to be approved by one of our moderators.
This is to ensure that the lyric meets our guidelines.
If your lyric doesn't miss anything and it follows our guidelines, rest assured that it will be approved when we have verified it. Want to make changes on your submission? Click the pending number in the sidebar.
•
https://www.lololyrics.com/pending
2.3. Can I embed a YouTube video to show it on the lyric page?
Yes! All you need to do is put the YouTube link between [embed] and [/embed].
You can use this everywhere the toolbar is above the text field. (profiles, comments, additional lyric notes, etc.)
We recommend you to embed only official videos since unofficial videos might get removed in the future.
To embed the following video:
https://www.youtube.com/watch?v=JzFyJuKriEI
.. write this:
(or press the embed button in the toolbar)
[embed]
https://www.youtube.com/watch?v=JzFyJuKriEI
[/embed]
.. and you get this: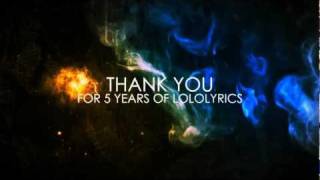 (You can also embed stuff from Soundcloud, Junodownload, Bandcamp, etc.)
3. Embedding, developers and more
3.1. Developers (API)
If you want to fetch lyrics from Lololyrics through own applications, please use our API to prevent being blocked and get much faster loading times. Full info about the API can be found at
api.lololyrics.com
.
The API is for example used in:
•
MLyrics
- An addon for the Songbird music player.
•
CoverGloobus
- Linux program to show cover and lyrics, supports many different music players.
• TheHardClock.com [edit: shut down?] - Website with a new Hardstyle track every day, links to us if we have the lyric.
•
Let's Go Zik
- Web radio with electronic music like techno, trance, hands up, etc. (Shows link/cover if we have it)
•
Tune-Instructor
- For macs: "Tune•Instructor expands your iTunes with a multitude of useful features."
•
Hardstyletop40.com
- Monthly radioshow on Q-Dance radio.
•
LSDB.eu
- Livesets of all kinds of electronic dance music.
•
MusicBee
- Music manager and player with support for Lololyrics straight out of the box.
3.3. Thanks..
Cliff for coming up with the site name and giving me many pieces of advice prior to starting up.
Azrael
for creating the design to start with (lolo v2)
Stan
for some design help (like the "no cover" image for tracks without any artwork)
And of course a big thank you to all the moderators and members for the time spent contributing, verifying, fixing and much more.
Thanks for browsing Lololyrics!