(

1

rate -

1 favorite

-

10

/

10

)
Radium - Back Again For Bang (Trance Generators Mix) lyrics
ad
Back [x?]
Back once again [x?]
Master [x?]
Back once again
We're the renegade master
Beatboy damage
Power to the people
Back once again
We're the renegade master
Beatboy damage
With the ill behaviour
[x?]
Back once again [x?]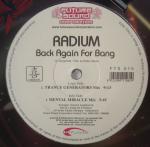 Top achieved
BETA
#1 Daily Hardtrance
High amount of stuttering and using words more than once in this one.
Feel free to comment if you hear any errors.
BloodyTwin
7 years, 3 months ago

Its here

!!!
Thats a valid point, but fuck you I'm spiderman.
Register or login to comment on lyrics
• Rate tracks, request lyrics you don't understand, no ads, hide genres you don't like, etc.
Register
Change username?
Login with your existing account and contact us