(

0

rates -

0 favorites

)
Angel - Like That lyrics
ad
Vengeance [2x]
Vengeance is a dark light that blinds all who seek it
The untroubled soul knows that to seek vengeance is to seek destruction
Vengeance [?x]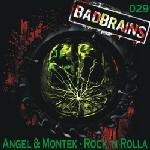 From the tv series: Life, season 1, episode 2 -
Tear Asunder
3 lyrics with the source Life
atomicoz
8 years, 11 months ago
If you browse all the other Angel's you'll see 1/78/30/etc on their artist page too.
They don't make it clear on the artist pages that it's their unique number and not part of the name. It'd be easier to understand if the number was in italic or another color to differentiate.

kickAD
8 years, 11 months ago
alright, thanks

hardcore5life
kickAD
8 years, 11 months ago
Is the artist's name actually "Angel" or "Angel (78)" as discogs says? (At first I thought it meant it was the 78th artist with the name Angel, but appears as her full artist name so..)
hardcore5life
Register
Change username?
Login with your existing account and contact us