(

0

rates -

0 favorites

)
Ado & Montorsi - Give Me All Your Money lyrics
ad
Freeze, I am Ma Baker
Put your hands in the air and give me all your money (x??)
Money
Freeze, I am Ma Baker
Freeze, I am Ma Baker
Put your hands in the air and give me all your money (x??)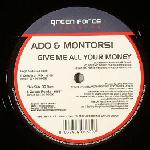 zup
10 years, 4 months ago
It's taken from the mentioned source, 'Boney M. - Ma Baker'

Lordpoo
10 years, 4 months ago
hahaha, "freeze, I am Ma Baker" does'nt make much sense ?
But it does sound like that is what they say though

Great song else.
Register or login to comment on lyrics
• Rate tracks, request lyrics you don't understand, no ads, hide genres you don't like, etc.
Register
Change username?
Login with your existing account and contact us