All lyrics are taken from this documentary: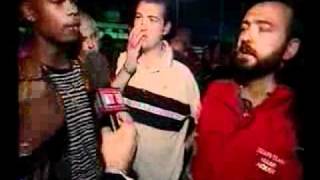 English translation:
Are you amusing yourself here?
I'm amuse myself optimally, yeah
So what do you do on a party like this the whole time?
The whole night I walk small rounds, and I... euh... walk small rounds
I just walk small rounds, I meet everybody, I stay walking small rounds, every round is different
You're walking small rounds for hours?
I walk small rounds for hours