(

6

rates -

3 favorites

-

10

/

10

)
ad
Hardcore!
We will never fall, apart
We're here from the start
And wherever we, may roam
We shall overcome
We come as one [5x]
Come as one!
Hardcore!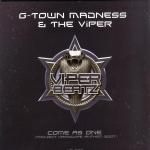 Top achieved
BETA
#6 Daily Hardcore/Gabber
The anthem for Project Hardcore 2007

* 'G-Town Madness & The Viper - Come As One (Brennan Heart Remix)' holds the same lyrics.
MarlboroMan
6 years, 10 months ago
1/2 of G-Town Madness was a producer behind the Alice Deejay project, maybe that is why.

Predaking
6 years, 10 months ago
sounds alot like Alice Deejay
Pain
10 years, 7 months ago
mmkay.. epic lyrics tho!

Imil
10 years, 7 months ago
This trackw as composed by some guy who also is in groups like 'alice deejay'... I'd say the vocals were written for this track
Pain
10 years, 7 months ago
hmmm, it's 'roam' and I still want to know if this has a source..
Pain
11 years, 3 months ago
where these lyrics taken from some other song? if yes, can some1 plz send me that song title? grtz
Register or login to comment on lyrics
• Rate tracks, request lyrics you don't understand, no ads, hide genres you don't like, etc.
Register
Change username?
Login with your existing account and contact us