(

4

rates -

0 favorites

-

10

/

10

)
ad
We united by hardness
We forces in a row
You believin' the lies
But action must be taken
What is the price
Da true scene's stolen
Trust no preachers
Deviates you from the truth
We united by hardness
We forces in a row
Fuck fashion
Fuck the losers
Fuck news on TV
Fuck the VIP
Fuck you, you mind raper
Be my toilet paper
Fuck you, dummy liar
Sleep now in the fire
Come on!
We united by hardness
We forces in a row
You believin' the lies
But action must be taken
What is the price
Come on!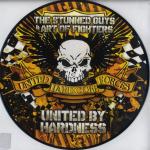 These lyrics were posted by The Stunned Guys himself; The choir in the break was taken from Kenji Kawai - Nine Sisters from the movie Avalon
QamiloHC
9 years, 9 months ago
the choir is Kenji Kawai - Nine Sisters, soundtrack from polish - japanese movie: Avalon
Register or login to comment on lyrics
• Rate tracks, request lyrics you don't understand, no ads, hide genres you don't like, etc.
Register
Change username?
Login with your existing account and contact us