(

2

rates -

2 favorites

-

10

/

10

)
Tatanka - Yellow lyrics
ad
Hard bass
We're gonna bring your ass on to sallow
You see, fellow
We are yellow
We're gonna put hard beats on the melo
'Cause we are yellow
Yes we are yellow
And if you think you wanna stand on your own light cello
You can't do it, fellow
'Cause we are the yellow
We wanna hear you all in this bellow
Come on you fellow
Come on just get loud
When I say hard
You say bass
Hard bass, hard bass
[4x]
Hard bass
When I say hard
You say bass
Hard bass, hard bass
[4x]
Hard bass
Bass
Hard ba-bass
[x2]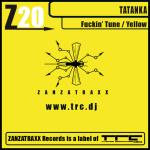 Approved by pzylence


Top achieved

BETA


#5 Daily Overall




CursedAss
9 years, 5 months ago
Well Laserboy:
HardBass is a party wich is organised by B2S. During HardBass there are 4 teams playing with 4 artists in each team: Red, Blue, Green and last but not least Yellow.
Last year Tatanka was in team Yellow (just like tomorrow). That's what this track is all about


Laserboy
9 years, 5 months ago
Epic... but I still don't get why Hardstyle is connected with the color yellow... whateva, I'm gonna print this text on the back of a yellow t-shirt and in the front the ZANZATRAXX bug/fly, whateva it is

MoLicious
10 years, 3 months ago
Sounds nice
Music is an escape; escape who you are, your tears, your fears, and forget what's wrong
Barney
10 years, 3 months ago
thanks!
Register or login to comment on lyrics
• Rate tracks, request lyrics you don't understand, no ads, hide genres you don't like, etc.
Register
Change username?
Login with your existing account and contact us