(

0

rates -

0 favorites

)
Sunrider - Fable (Brisby & Jingles Remix) lyrics
ad
Fable
Tell me your Fable
(Tell me!)
A Fable, that will never end
(Tell me!)
The Fable
Tell me your Fable
That will never end
Tell me your Fable
(Tell me!)
That will never end
(Tell me!)
Tell me your Fable
That will never end
(Tell me!)
That will never end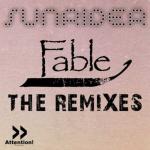 Approved by pzylence


Top achieved

BETA


#10 Daily Hands Up!




Rez
6 years ago
Robert Miles - Fable (Message Version) My Bad
Rez
6 years ago
The source is Robert Miles (Message Version)
Register or login to comment on lyrics
• Rate tracks, request lyrics you don't understand, no ads, hide genres you don't like, etc.
Register
Change username?
Login with your existing account and contact us